Contact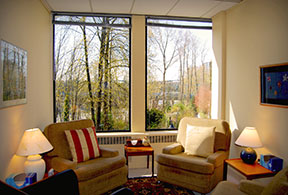 604 926 9468
#302 – 545 Clyde Avenue
West Vancouver, BC
V7T 1C5
See a map...
Link for Online Scheduling for Existing Clients
https://oab.owlpractice.ca/drmarilynchotem
Please note that only online or telephone services are available during the Covid-19 pandemic.
Office Location
My wheelchair accessible office is located near Park Royal Shopping Centre in West Vancouver BC, just over the Lions Gate Bridge. The office overlooks the Capilano River. Free parking is available at the west end of the building's parking lot, as well as, two-hour parking on the street in front of the building.
Public Transit Directions
To reach the office by public transit from North Vancouver or Vancouver, take a West Vancouver bus to the first bus stop on the east side of the Capilano River (Capilano River bus stop), go west across the bridge, until you see a pathway on your right. Walk down the pathway and follow 6th street due north to Clyde Avenue. Go right on Clyde Avenue until you see the entrance to the four-floor office building on the north side of Clyde Avenue.
Alternatively, get off at Park Royal Shopping Centre and walk east, cross Taylor Way, go north one block to Clyde Avenue, and walk east two blocks on Clyde Avenue.
Fees
Fees are commensurate with the recommendations of the BC Psychological Association and payment is made at the time of service by cheque, cash, VISA or MasterCard.
Extended health benefits typically cover the fees of Registered Psychologists. ICBC, WCB, Criminal Injuries Compensation, and Health Canada also cover the fees of Registered Psychologists.